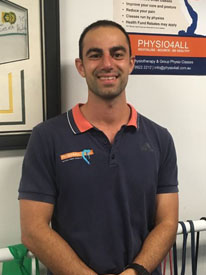 B.Phty (Physiotherapy)
Physiotherapist and ASCA Lvl 1
Brad is a graduate of the Australian Catholic University with a Bachelor's degree in Physiotherapy. He is passionate about exercise therapy, pain relief and performance optimisation for all daily and sporting activities. Brad is an ASCA Accredited Level 1 strength and conditioning coach and Lead Physiotherapist at Sydney FC Senior Academy.
Brad has a strong sporting background competing in Brazilian Jiu-Jitsu and represented West Tigers Junior Rugby League. He also has played nationally in Oztag and travelled to Auckland, New Zealand for an Oceanic Cup Tournament in 2016.
Brads specialities include knee, hip, lower back and shoulder injuries. He is experienced creating both gym and running programs for returning athletes. Brad takes an individualised approach to chronic conditions and takes the time to understand your pathology and specific needs. He will work with you to create and meet short as well as long term goals, and help you get more from