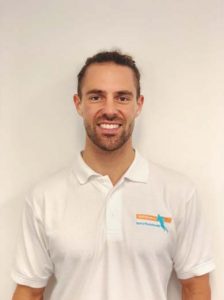 M. Phty. Masters of Physiotherapy – University of Sydney 
B.Sci (Anatomy and Physiology) – University of Melbourne 
Diploma of Remedial Massage 
ASCA Accredited Level 1 Strength and Conditioning Coach
Jackson worked as CSIA Level 2 Ski Instructor and Mountain Bike Instructor in Canada between degrees and now spends his time finding waves on Sydney's Northern Beaches. Jackson has a deep passion for team sports and has been involved with many teams both on and off the field. Jackson's exposure to injury of both his teammates (and sometimes himself) played a large part in his drive to become a physiotherapist. Jackson has been working closely with Rugby, Soccer and AFL teams as a Sports Trainer, most noticeably Manly United FC.
Jackson has special interest in the spine, shoulder and hip and the connection to other joints through biomechanical analysis and manual therapy. He creates research and experience-based exercise programming and takes a holistic approach to health and fitness. Jackson's mission is to work with you to build a unique program that will help you not only return to your everyday pursuits but perform better both physically and psychologically. Jackson prides himself on his own work ethic in the pursuit of health and fitness and wants to help you reach your potential.