Established since 2001, PHYSIO4ALL has been servicing clients in the North Sydney area for fourteen years.
We can help you – if you need treatment for a specific injury, or if you simply want more from your body.
We are a boutique practice, conveniently located in North Sydney's NorthPoint Plaza, and open from 7.30am – 6.00pm Monday to Friday, or by appointment.
Introducing the Team
With 25 years of collective Physiotherapy experience from around the world, we have a dedicated team ready to treat you.
Our team has been hand selected for their enthusiasm, professionalism and dedication. These are people who consistently demonstrate that they strive for excellence, so you know you are always in the best hands:-
Steve Felsher, Raymond Chen, David Brimfield, Karen Laird, Mervyn Felsher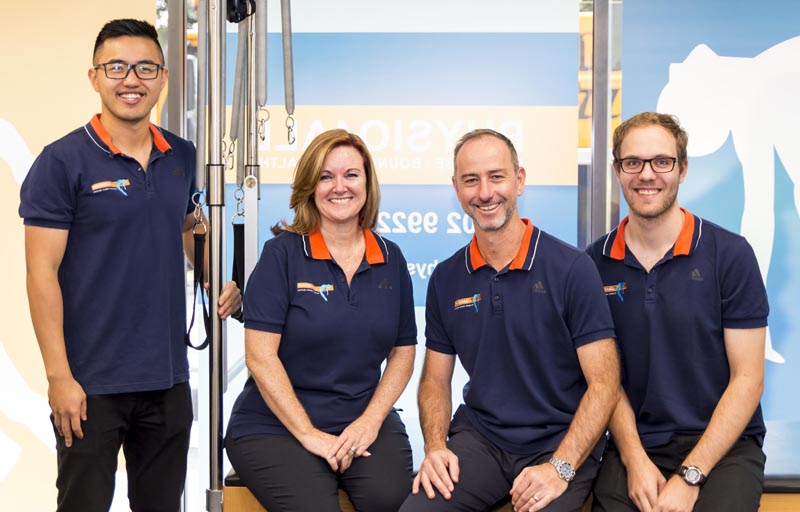 Our Philosophy / Mission Statement
At PHYSIO4ALL, we are dedicated to offering personalised evidence based physiotherapy services. Most importantly, our staff involve themselves in managing the patient as a person, and will endeavor to understand the patients' injury in the wider context of the body's ability to move and function normally. PHYSIO4ALL staff are committed to help all patients alleviate pain and enhance their health through evidence based treatment and exercise.PHYSIO4ALL staff will always go the extra mile to ensure that our patient's needs are taken care of, and that everyone's experience at PHYSIO4ALL is an exceptional one. Steve Felsher and his associates are committed to ongoing education and professional development to ensure the best possible treatment and health outcomes for their patients.
Let us help you reach your true health potential
Steve Felsher
Principal & Director
B.Sc.Physiotherapy (Hons)
Member of APA.OHPA.PBA
Cert IV Assessment and workplace training
WorkCover Approved & Qualified Clinical Pilates Instructor
Steve is our principal physiotherapist, whose impeccable physiotherapy results have earned him the right to work at the Sydney 2000 Olympic Games, the South African Olympic Soccer team and the Natal Sharks Super 14 Rugby team. Steve is known by his clients as a "stand out" for getting positive results, quickly.
Steve has years of experience consulting to the corporate sector in injury management and prevention. Due to spinal dysfunction and injury at the work place, Steve has designed a number of prevention programs that provide a safe, productive, healthy and enjoyable work environment that delivers a measurable return on investment. Steve is passionate about Player Welfare and is currently Head Physiotherapist at the Manly United Football Club and is presently studying his Masters in Sports Science (Football Performance) at Victoria University.
Raymond Chen
B.App.Sc (Physiotherapy)
Senior Physiotherapist
WorkCover Approved & Qualified Clinical Pilates Instructor
Ray is a graduate of the University of Sydney and has worked with a range of post surgical, musculoskeletal and chronic pain patients, and is very interested in how spinal pain and dysfunction relate to posture and the biomechanical movement of the lower limbs. Ray is also interested in the treatment, rehabilitation and prevention of sports injuries and is currently Head Physiotherapist at the North Shore Mariners Football Club
Isabella Kristensen
Isabella is a graduate of The University of Sydney with a Master of Physiotherapy. As an undergraduate, she completed a Bachelor of Health Science with a major in Movement Science, also at Sydney Uni. Isabella is a competitive surf life saver and specialises in the surf ski. She enjoys living an active lifestyle and cycles in her free time. Isabella has a great interest in helping people relive pain and optimising function by addressing key biomechanical deficits. Book in with Isabella today!
Karen Laird
Office Manager

Karen brings enthusiasm and a wealth of experience as Practice Manager to our team. Having worked in the Physiotherapy industry for 10 years and prior to that, 10 years in customer service roles, Karen is the perfect fit to greet our valued customers at the front counter.
A consummate professional combined with a very friendly demeanour, Karen has a natural ability to make patients and clients feel welcome and comfortable during their time at PHYSIO4ALL.
Mervyn Felsher
Office Manager
Few people know customer service like Merv, with 45 years' retail experience under his belt.
He is our front line man, and will ensure that you are well looked after both before and during your visit with us.