Sever's Disease
A Sever's lesion is a condition that affects where the Achilles tendon inserts into the Heel bone. This condition is very common in adolescents especially at the time of a growth spurt and an increase in the volume of weight-bearing activities, usually between the ages of 7 and 14yrs old.
As the young athlete's bones grow at an accelerated rate the calf muscles fail to lengthen at the same rate and are put on stretch. This adds tension to the attachment of the Achilles tendon which has a pulling effect on the underlying growth plate at the calcaneus (heel bone).
Activity related pain can be present from the back of the heel to underneath the sole of the foot especially in sports involving running, jumping and explosive leg movements.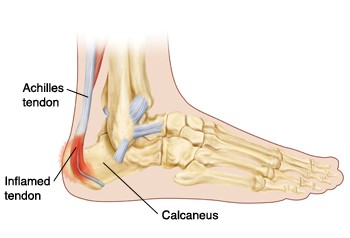 WHAT CAUSES IT?
– Over activity/overuse from a mixture of club sports, school sports, recreational activity etc.
– Lack of supportive footwear
– Running and jumping biomechanics
– Training or playing on hard surfaces
– Training or playing heavily after an extended period of complete rest from activity/sport
HOW TO MANAGE MY OR MY CHILD'S PAIN?
Ice 5 mins (especially when inflamed and acute) – 2 to 3 x p/day
Use of anti-inflammatory medication to reduce the initial inflammation – on heels
Heel lift /heel cup and/or orthotics as well as appropriate and supportive footwear
Use of foam roller on calf
HOW CAN PHYSIOTHERAPY HELP ME OR MY CHILD?
Activity modification – reduction of weight-bearing activities for between 2 – 8 weeks
Calf massage
Taping to unload the heel
Appropriate Stretches – when pain free
Appropriate functional motor control exercises when pain free
Create an appropriate strength program to prevent Sever's developing again
Assist with return to training and games of your desired sport/activity
 We see Sever's disease regularly in players from all grassroots local sports to Premier League youth athletes. Come in and see us for best care, management and advice for your child's Sever's condition.